DIY Cactus Pots
•
Posted on February 21 2019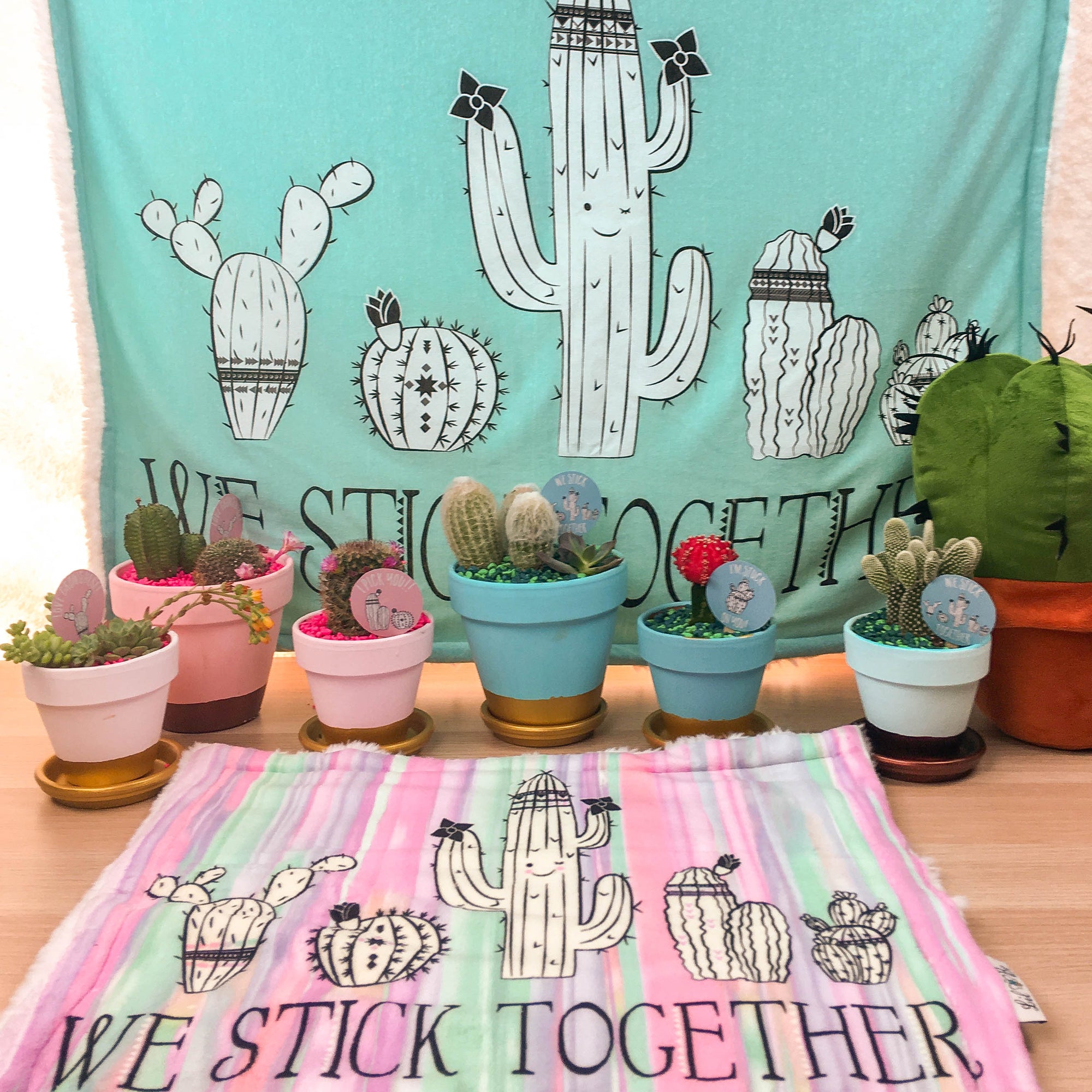 Spring is in the air and these cute DIY cactus plant pots are perfect for upcoming baby showers, birthdays, and any special occasion.  They are also great gifts for Mother's Day too.  These cactus plant pots go well with our Lil Be Blanket "We Stick Together".  Cute to use as a banner sign for a party and a great gift at the end. 
Material:
Terra-cotta pots
Foam brush
Acrylic paint
Painter's Tape
Rubber band
Pencil
Succulents/Cactus
Cactus Soil
Aquarium Gravel
Optional:
Wooden sticks
Print out signs
Tape
Step 1:  Using the foam brush, apply acrylic paint to the terra-cotta pots.  Don't forget to paint the rim at the top of the pot as well.  After the first layer dries, apply a second layer to have complete coverage.  
Step 2:  After the paint dries completely, carefully put the rubber band on the bottom of the pot.  The rubber band will give you a guide to draw a line with a pencil.  From here it is optional to put painter's tape or paint free hand. 
Step 3:  Once the painter's tape is press down, start to paint.  Paint the bottom of the pot and tray with a metallic acrylic paint.  Add a second layer to have complete coverage.  Once pot is completely dry, remove the painter's tape. 
Step 4:  Now it's time to add your plants in the pots.  You may need to add more cactus soil to fill in completely.  Add aquarium gravel on top of the soil for a fun pop of color.  Now you are finished and have a beautiful display for any special occasion.  They are adorable and affordable.  Be very creative and mix and match different colors to go back with your party theme or home. 
Optional-Step 5:  You can add these adorable signs to your plants.  It adds a special, inspirational, and positive sayings to any occasion.  Just print them out and tape or glue to any wooden sticks. 
Aren't these adorable and fun.  Lil Be blankets look so amazing as a sign or display.  Great inspirational saying and a beautiful gift at the end of any baby shower or birthday party.  Come and be inspired.  Dream to be.  Be the strongest.  Dare to be.  Be the love with Lil Be.